LiveCycle support is ending; Here's why PDF SDK is a better alternative
by Conor Smith | September 12, 2019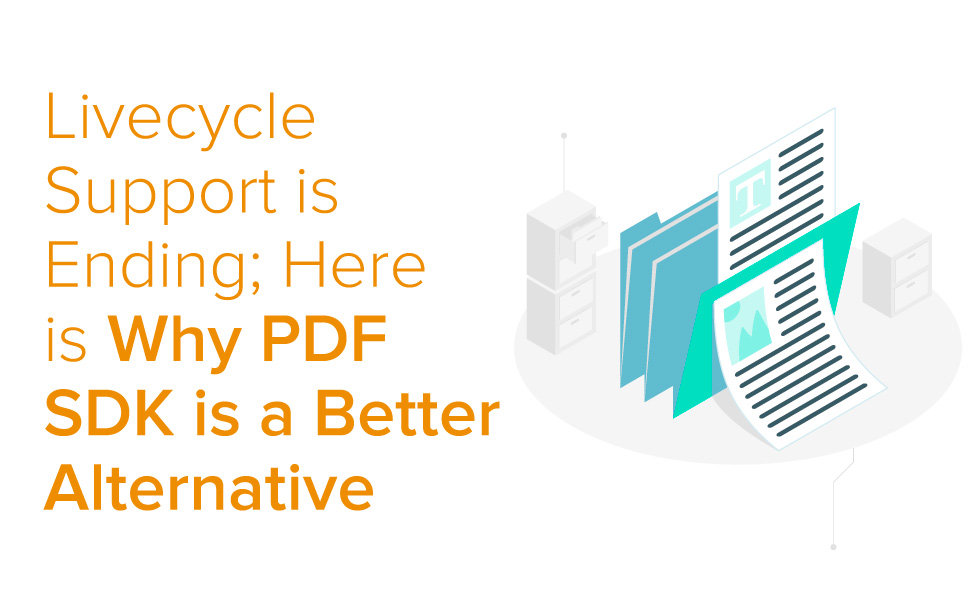 As Adobe LiveCycle's support comes to a close (extended technical support ends March 2020), we're taking a look at why a PDF SDK is the perfect alternative for your company.
Intro to Adobe LiveCycle
Firstly, let's dive into Adobe LiveCycle itself. The product included a dedicated Adobe server that you could attach to your servers in order to process your files. This was ideal for processing documents and storing files. You could also have your own server, and on your business premises too. LiveCycle was mainly used for form designing including XFA (aka dynamic) forms.
What is the replacement for LiveCycle?
The replacement product for LiveCycle is Experience Manager Forms. The main issue with this replacement is that it is extremely expensive, costing well into the hundreds of thousands (if not millions) of dollars to purchase.
What is an alternative to LiveCycle?
A PDF software development kit is an ideal alternative that doesn't break the bank and is fully customizable by your organization, whether client or server-side. With an SDK you can build something yourself instead of getting another service software that will likely be discontinued in a few years such as OpenSSO, Microsoft Forefront, Google Wave, and Adobe LiveCycle itself. You can transfer existing forms to a new lighter SDK and perform functions like annotate and sign without changing the forms.

The case for Foxit PDF SDK
There are many reasons why Foxit PDF SDK is a better alternative to Adobe Experience Manager Forms. Here are some of the main ones:
Cost savings
You can integrate Foxit PDF SDK into your system for much less than an Adobe alternative. If you are willing to create your own infrastructure, or want to have us do it for you, you can do so with PDF SDK. The software we offer is cost-effective and extremely customizable; with Adobe you cannot code on top of Creative Cloud whereas with our lightweight SDK you can with ease.
Document workflow handling capabilities
With a lightweight web-based PDF SDK like Foxit's, you can build a document structure online to suit you. Your structure can be as simple as having XFDF files and HTTPS requests (built in secure APIs to receive and send out requests). If you want to get more complex, you'll simply need some tools to connect to the server. With JavaScript-based PDF SDK, it enables you to be more dynamic with your workflows.
Edge case success rate
PDF SDK was built to handle even the most complex PDF files and document management workflows and supports 99% of edge cases. Our dedicated support team of engineers help you solve infrastructure issues and enable you to do what you want with a web server that is fast, transfer data without issue and is flexible to your needs.
Many PDF SDK customers have achieved what they needed to and more with Foxit. We're the choice of many companies who were users of Adobe LiveCycle but found its replacement too expensive and cumbersome. As the price of this replacement goes up and up, it pays to use the industry's leading SDK.
For more information on our web-based JavaScript PDF viewer please click here or get in touch with our team below.