Introducing MobilePDF SDK for UWP
by Conor Smith | November 9, 2017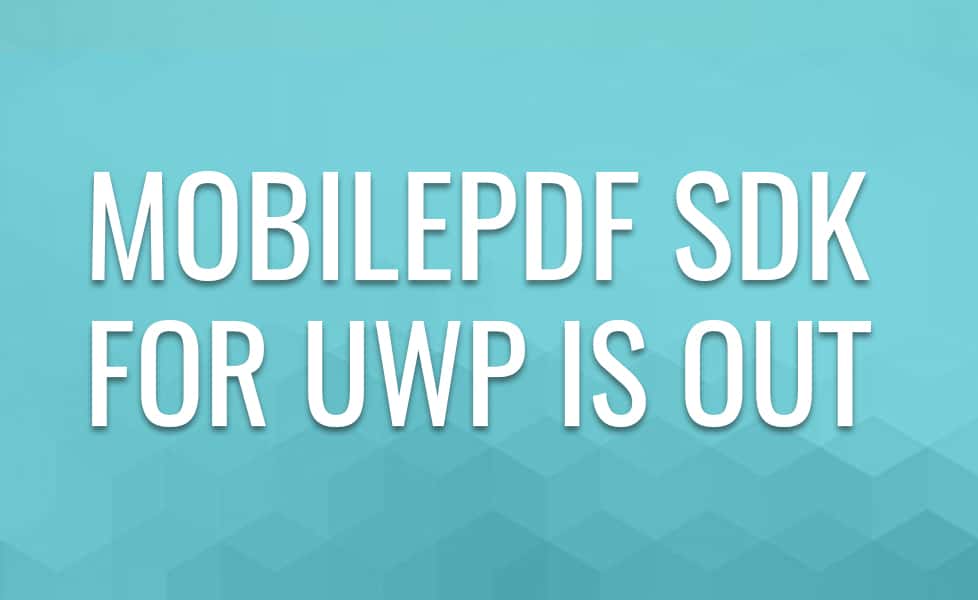 Foxit already has a successful PDF viewer built with UWP available in the Windows Store and it has proven successful to say the least with over one million downloads. With its tried and test UX and UI components Foxit have decided to integrate it into our MobilePDF SDK that already supports Android and iOS.
Our technology supports creating apps for both PC/tablet and Windows Phone, as well as Android and iOS. Foxit MobilePDF SDK for UWP has been designed from the ground up for UWP, and its UI is based on Foxit's existing Foxit MobilePDF app, which has been downloaded around a million times from the Windows Store, so you know that it has already been road-tested and refined based on feedback from real-world users.
Features
The first release of Foxit MobilePDF SDK for UWP is packed full of features such as:
PDF viewing,
Night mode,
Extensive annotation and markup support,
Typewriter,
Stamps,
Undo/redo,
Form filling,
Find function,
Extensive file conversion capabilities (PDF to BMP/JPG/GIF/Text/PNG etc),
Add/edit Bookmarks
Set Metadata, and much more
Our UIExtensions project is an open source project that contains the UI implementations for the basic UI of app and the ready-to-use feature module UI, which can help developers rapidly embed a fully functional PDF reader into their UWP app. Of course, developers are not forced to use the default UI, they can freely customize and design the UI for their specific apps through the "UIExtensions" project!
What's Next
It's a big first release, but of course our Core API which has already been developed for iOS and Android, and the existing UI/UX from the MobilePDF app, gave us the perfect launching pad to get this new Rapid Development Kit off the ground quickly. Of course this is just the beginning, we have a lot more features planned for 2018 and we'll continue to work hand-in-hand with our customers to ensure Foxit MobilePDF SDK for UWP is the best it can be.
Foxit MobilePDF SDK for iOS, Android and UWP… it's the trifecta for modern business apps and it's all available from Foxit. Start a trial today and discover how important MobilePDF SDK is for your app!
"UWP was the obvious next step for our MobilePDF SDK, which now allows developers to deploy their apps across all major mobile operative systems. We are committed to bringing UWP to the standard we've set for the iOS and Android versions for a seamless user experience across all three major platforms." – Karl De Abrew, President of Foxit SDK