What our Customers are saying about Foxit PDF SDK
by Conor Smith | October 28, 2019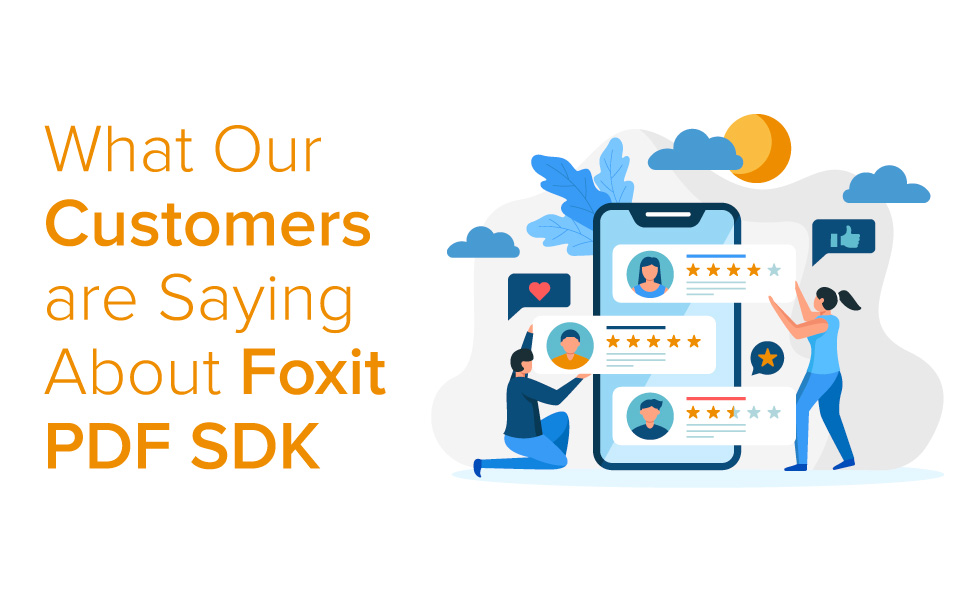 It's been a busy year for the Foxit PDF SDK team. For the second year in a row, Foxit PDF SDK has been selected by G2Crowd as a 'high performer'. We perform substantially higher than the competition, and the results speak for themselves: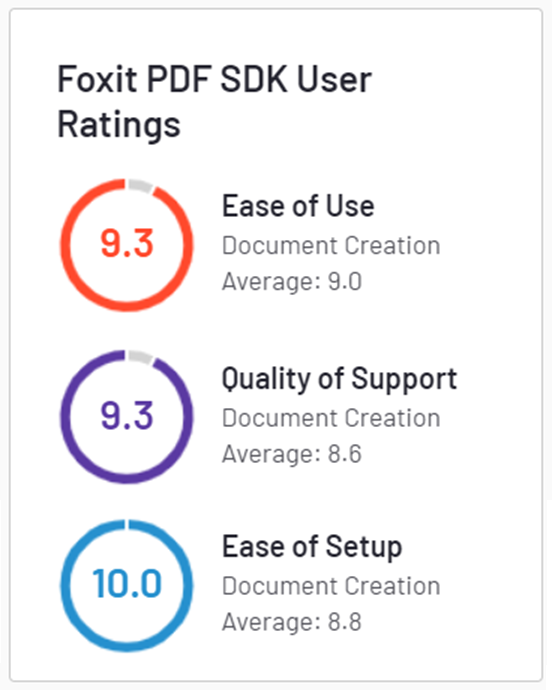 The number of PDF SDK users has grown significantly over the past 12 months and in this post, we're taking a look at what our customers are saying about PDF SDK online. We've listened a lot to feedback from you on how our product needed to be improved. This includes everything from performance, to highly requested features, to support and more. These improvements have come with every launch from 6.x to our current 7.0 (7.1 for PDF SDK for Web!), and here's what our customers are saying.
FEATURES
By looking at what customers are saying about PDF SDK, we can see that features play a major role in how our software is used. In the past year, we've added support for HTML to PDF conversion, Long-Term Validation (LTV) signature support for PAdES, AngularJS, .NET Core, AcroForm creation, addons for OCR, XFA, redaction and much more which you can see in our changelog.
"What I loved about Foxit PDF SDK is that the range of functionalities it provides. Some of the functionalities are PDF viewing, PDF signature, PDF forms, PDF annotations and the best thing is you can use this on any of your platforms. Since my work heavily deals with PDF documents I find Foxit PDF SDK quite useful."
– G2Crowd review
"I like Foxit PDF SDK because it allows me to design and adjust my documents with just one (SDK) thanks to the diversity of features available, making my work much more practical and creative, achieving great results, and is easy to use. I require this tool daily for my reports, so Foxit PDF SDK has been extremely useful."
– G2Crowd review
"The Foxit SDK enables our Intelligent Vehicle Gateway customers to display high-quality PDF files and search for text within documents. The PoC with Foxit was very quick and straightforward, and we now have PDF functionality that fits seamlessly into our fleet management workflows."
– Parth Sudame, Engineer & Senior Manager, Omnitracs
PERFORMANCE
The speed at which our SDK works is another highlighted aspect among our customers. With our PDF SDK for Web release, we tested our SDK against our old version and a major competitor and found that it outperforms both on 86% of tests that include different languages, fonts & annotations, as well as small, medium and large files. With the desktop and mobile versions, we found similarly impressive results.
"I do not have anything negative to say about this particular software. It does everything pretty fast and to be honest I find myself very happy whenever I use this."
– G2Crowd review
"Foxit PDF SDK has worked excellently, I have not found anything that I do not like so far, very useful and practical."
– G2Crowd review
"Foxit PDF SDK works superbly for our users. Its reliability, fast loading time and advanced annotation functionality have enabled it to become an invaluable tool for our staff."
– Lazhar Rohner, ECM Specialist, Vaudoise
SUPPORT
Foxit's expert team of developers and engineers know PDF inside and out. Our customers pinpoint the fast response time and how the support team goes above and beyond to ensure that projects involving our technology run smoothly.
"Occasional bugs are always handled very quickly by the IT team."
– Capterra review
"Foxit has provided us with an excellent real time collaboration tool that is user friendly and seamless to integrate. From a developer point of view, the support is top quality and from real developers."
– Johnny Vik, Pims Software Department Manager, Omega
SECURITY
Our PDF SDK has a number of different security features that stand out for our users. Everything from the latest signature verification technology to password protection, redaction functionality, and much more ensure that our SDK is the securest on the market for our users.
"I can prepare documents under the security provided by the PDF formats, provide protection to the documents that I create in my team to be later saved or shared with one of the working groups, allowing me to convert documents quickly and easily."
– G2Crowd review
"My favorite thing about this product is the various tools available to work with PDFs. I mostly use the security feature and the signature feature. I also like how easy it is to extract, switch and combine pages in PDFs."
– Capterra review
"With the integration of Foxit PDF SDK for displaying documents, Loomion has found a seamless way to bring "twelve mobile for iPads" to the next level. As a result, users can easily access any meeting documentation, no matter if they are at the office or on the road. Board members can now be confident that their information is highly protective and secure."
– Frank Becker, CTO, Loomion
For the next 12 months and beyond, we intend on improving PDF SDK further to continue to offer the best PDF SDK in the industry. For more information on our solution, get in touch below with our team.